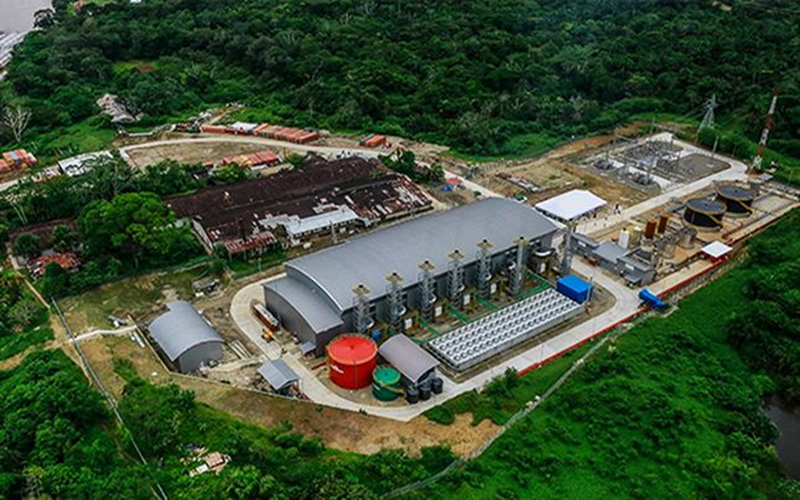 PetroTal has announced the following operational update for Q1 2021. All currency amounts are in United States dollars (unless otherwise stated).
Highlights:
Petrotal has commenced its 2021 drilling program by spudding the first well ("7D") on March 29, 2021, with expected completion the first week of May 2021;
Successfully completed the workover of well 4H on time and under budget;
Continued the installation of expanded production facilities ("CPF-2") that have arrived at the field with start-up dates finalized;
Achieved Q1 2021 exit production of 8,275 barrels of oil per day ("bopd") with Q1 2021 production averaging approximately 7,300 bopd;
Following completion of the 7D well, the team will drill the second water disposal well ("3WD") on the western flank of the structure, adding 50,000 barrels per day of water disposal capacity;
Following completion of the 3WD well, the team will drill four development horizontal oil wells in H2 2021;
Total cash liquidity of approximately $76 million, inclusive of an unrestricted balance of $53 million ($23 million are restricted for acquisitions and commodity price hedging). In addition, future Petroperu true-up payments of approximately $36 million to PetroTal are expected, significantly enhancing the 2021 cash flow profile compared to budget
Q1 2021 Operations Update
The first well in the 2021 development program was spud on March 29, 2021. The 7D deviated well is expected to be complete in the next 30 days, reaching a total depth of 2,880 meters and costing $9.5 million to drill, complete, and tie-in. This well is planned to develop the south side of the Bretana structure and execute an operationally straight forward drill.
Following the 7D well, the Company will drill a water disposal well (3WD), the second water disposal well drilled by PetroTal, that is expected to be completed and online by mid-June 2021. The Company plans to core the 3WD to gather technical data from the western flank of the Bretana structure, which will provide valuable reservoir information for future field development. Following completion of the 3WD well, and as part of the approved 2021 budget, the team will focus on drilling four additional horizontal oil wells, with the first one to the south of the structure and the following three in the northern section of the structure.
The Company has successfully completed the workover of its 4H well which was previously announced on February 18, 2021. The budget for this operation was $1.1 million with an actual spend of $984,000, 7% under budget. The new electro-submersible pump ("ESP") that was installed has a nominal capacity of 12,000 barrels of fluid per day ("bfpd") versus 8,000 bfpd with the old model. Since the workover, the 4H well has been producing approximately 2,300 bopd, compared to 1,872 bopd, prior to the pump failure. The Company plans to install similar higher capacity ESPs in most of the Bretana oil wells to optimize production and oil recoveries.
Notwithstanding the downtime of the 4H well, production still averaged approximately 7,300 bopd in Q1 2021, with a promising March 31, 2021 exit production rate of 8,275 bopd. This is materially on budget and 2021 production guidance is unchanged as announced on February 18, 2021, with an expected year end exit rate of 18,000 to 19,000 bopd.
The Company continues to progress the installation and tie-in of the CPF-2 expansion facilities which will take overall processing capacity to 124,000 bfpd with the ability to handle 24,000 bopd by mid-September 2021, coinciding with completion of two new oil storage tanks, bringing storage capacity at the field to 90,000 barrels of oil. The remaining components of the CPF-2, principally the additional formation water treatment facilities, will be ready in Q3 2021, coinciding with expected production increases. The CPF-2 total investment remains at $24 million, with the remaining $12 million in the 2021 budget, costing $4 million less than originally estimated.
March 31, 2021 Liquidity Update
At March 31, 2021, PetroTal has a cash position of approximately $76 million, of which $53 million is unrestricted, with $20 million dedicated to accretive acquisitions and $3 million as collateral for commodity price hedges. Accounts payable and accrued liabilities are approximately $37 million, a 16% reduction from $44 million at December 31, 2020. Ongoing payments will be managed from expected oil field revenues and internal cash resources. Pursuant to contractual terms with our suppliers, approximately $6 million (16%) is not due until after Q2 2021.
As previously announced on March 31, 2021, PetroTal will benefit from commodity prices hedges that have been placed to ensure cash flow stability for the capital expenditure program and a sufficient cushion over all the bond covenants. The current incremental value of the arranged true-up payments to PetroTal, which is subject to change, is approximately $36 million, based on the March 25, 2021 forward Brent strip oil price forecast.
COVID-19 Surveillance and Control
The Company has fully integrated a robust COVID-19 surveillance and control process into its operations and is equipped to handle increased operational activity to execute its 2021 capital budget. The Company has approximately $1 million budgeted in 2021 for COVID-19 related support. Key features of this plan include a one week quarantine and testing protocol for all incoming field personnel, revamped working conditions into smaller pod teams with mandatory protective equipment, and designated clinics and offsite isolation areas to address issues as they arise.
Manuel Pablo Zuniga-Pflucker, President and Chief Executive Officer, commented:
"We are excited to start our 2021 drilling campaign. Due to an unprecedented decrease in world commodity prices, the impact of COVID-19, and government related social issues, it has been over a year since our team was drilling for growth and we are very happy to be back doing what we do best for our stakeholders. I am also very encouraged that considering the deferral of drilling, required maintenance activities, and natural field declines, our production levels remain strong as base oil production declines have performed as expected.
The successful workover of the 4H well was a valuable operational test that, as a result of the higher production levels and revised expected ultimate recovery, sets the stage for us to do the same in other oil wells, at the appropriate time. With our strong current liquidity position, approximately $36 million of unbudgeted true-up revenue coming in 2021, and a fully funded capital program, I anticipate an exciting growth trajectory for our Company over the coming years.