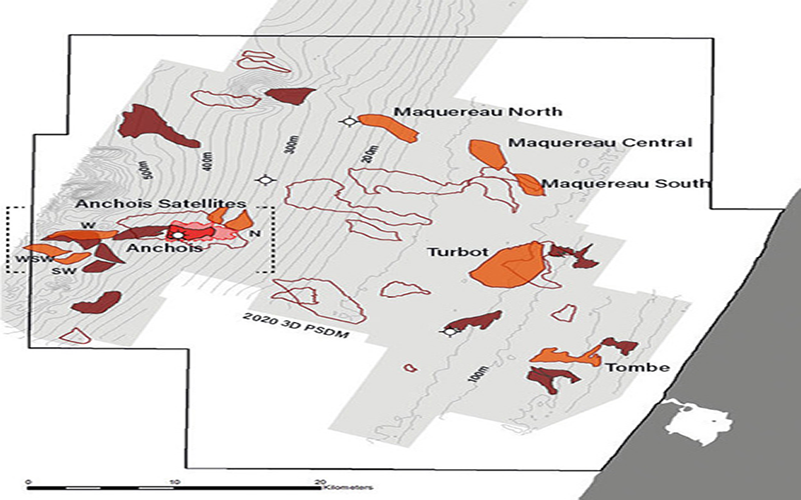 Chariot has signed a Pipeline Tie-In Agreement with the Office National des Hydrocarbures et des Mines ("ONHYM") securing access to the major Maghreb Europe Gas Pipeline ("GME") in Morocco. The GME, owned and operated by ONHYM, runs from eastern Morocco through to Tangiers in the north and subsequently across to Spain. This agreement will enable the gas produced from the Anchois Gas Project, offshore Morocco, to be transported via the GME to different potential offtakers.
The Anchois Gas Development Project
The Lixus Offshore licence covers an area of approximately 2,390km², with water depths ranging from the coastline to 850m. The area has extensive data coverage with legacy 3D seismic data covering approximately 1,425km² and 4 exploration wells, including the Anchois-1 discovery well.
The Anchois-1 gas discovery represents a high value gas appraisal and development project which is on track to be drilled in Q4 2021.
Anchois -1 gas discovery – Audited total remaining recoverable resource in excess of 1 Tcf, comprising 361 Bcf 2C contingent resources and 690 2U prospective resources.
High quality reservoir properties that mean producer wells can produce gas at high rates, reducing the associated drilling and completion costs and subsea complexity.
Reservoirs are directly imaged on seismic data, with distinctive seismic signatures, showing bright, high amplitudes and far-offset (AVO) seismic anomalies, increasing the confidence in the lateral extent of the sands away from the discovery well location and other systems on-block
Material low risk exploration satellites with significant tie-back potential
Additional on-block, exploration upside of a combined 1.8 Tcf 2U audited Prospective Resource
Excellent gas quality, without impurities such as carbon dioxide or hydrogen sulphide, means that standard materials and technology can be used for the flowline and processing facility
World-class commercial contract terms with high gas prices in a developing market with growing energy demand offers a potentially high-value project
Lixus Portfolio
In addition to the Anchois discovery, the Lixus portfolio is estimated to contain around 3 Tcf of audited gross contingent and prospective gas resources. Further upside has been identified since the most recent audit, estimated to contribute an additional >1.5 Tcf to the portfolio.
Primary energy demand in Morocco has doubled since the year 2000 and is forecast to double again from 2015 to 2030. In terms of power generation, imported fossil fuels dominate, with Morocco relying on imports for over 90% of its primary energy needs. The Moroccan government has been working on policies designed to improve security of supply, to provide industries access to cleaner energy at a low cost, and to minimise the environmental impact of its energy mix. As part of this process, gas has been a major factor in its vision, including the construction of further power infrastructure.

Discovery
In January 2022, Chariot announced the result of the Anchois-2 appraisal and exploration well on the Anchois gas project within the Lixus licence.
Preliminary interpretation of the data confirms the presence of significant gas accumulations in the appraisal and exploration objectives of the Anchois-2 well with a calculated net gas pay totalling more than 100m, compared to 55m in the original Anchois-1 discovery well. Net gas pay estimates based on further interpretation of the well data, have been upgraded to approximately 150m.

"I am very pleased to announce the signing of this Pipeline Tie-In Agreement with our partner on the Lixus licence, ONHYM. This moves Chariot a step closer towards delivering first gas from the Anchois gas field to potential customers using the GME pipeline. The Anchois Gas Project is a highly strategic asset given the continued volatility of global energy markets and combined with its proximity to the international GME pipeline, we are well placed to bring gas online as quickly as possible," Pierre Raillard, Head of Gas Business & Morocco Country Director at Chariot, commented.