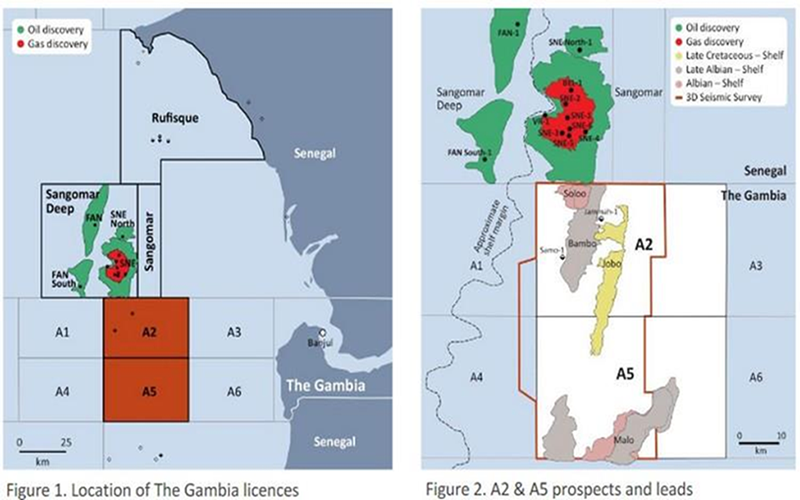 FAR Limited has locked in the timetable for drilling the Bambo-1 well offshore The Gambia by executing a contract with Stena Drillmax Ice Limited to commence drilling operations in Q4 of this year. The Bambo-1 well in Block A2 offshore
The Gambia, is designed to drill into 3 prospects with a total estimated recoverable, prospective resource of 1,118 mmbbls (arithmetic sum of the Best Estimates, 559 mmbbls net to FAR) and the chance of geological success for the various horizons range from 7% to 37% (see Figures 1, 2, 3).
These target reservoirs are:
1. Soloo – The extension of the hydrocarbon-bearing reservoirs in the adjacent Sangomar Oil Field, offshore Senegal.
2. Bambo and Soloo Deep – two additional prospects, not drilled during the Senegal drilling campaigns.
These two prospects carry a lower chance of success but higher volume of hydrocarbons. The technical assessment of the Bambo Prospect has greatly benefited from FAR's extensive database and experience in the region and learnings from FAR's involvement in the 11 successful wells in Senegal and the Samo-1 well drilled in 2018.
FAR is Operator with a 50% working interest in the A2 and A5 permits with its joint venture partner, PC Gambia Ltd, a subsidiary of Petroliam Nasional Berhad (PETRONAS). If successful, a discovery could result in a standalone development which would be The Gambia's first oil production.
. Planning for the Bambo-1 drilling project is well advanced. The execution of the rig contract marks a significant milestone in the planning for the well with spud now confirmed for between 1 October and 30 November 2021, subject to rig schedule. Long-lead items have been ordered and tendering and contracting for remaining key services is underway.
The Environmental and Social Impact Assessment (ESIA) for the project is approved by the National Environmental Agency of The Gambia. FAR has engaged Exceed Energy in Aberdeen to provide the engineering and wells management team to deliver this project. The well is expected to take approximately 30 days to drill and planned to drill to a depth of 3266m in water depths of 993m, 85km offshore and 500m south of the Senegal-Gambia
Stena Drillmax Ice Limited is a subsidiary of Stena Drilling Ltd, the same drilling company that FAR Gambia Ltd (a wholly owned subsidiary of FAR Ltd) contracted for the previous drilling offshore The Gambia that was completed safely and under budget. The Stena IceMax is a 6th generation dual-activity dynamically positioned Mobile Offshore Drilling Unit (MODU) that is currently undertaking operations in Latin America before deploying to The Gambia.