Over 100 industry expert speakers will come together for this year's Mozambique Energy and Industry Summit 2023 (MEIS) and we are delighted to introduce the first set of keynote speakers who will be joining us across the three conferences.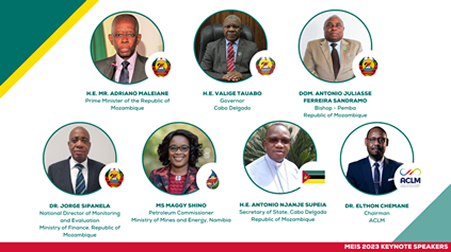 The MEIS programme will comprise of MEIS: Cabo Delgado, hosted by the Provincial Government of Cabo Delago, taking place 30-31 May,MEIS: Maputo, hosted by the Mozambican Local Content Association (ACLM), taking place 6-7 June or the full MEIS 2023 package which also features H-Series Mozambique, taking place 8 June.

The programme will consist of key national and international speakers, made up from respective governments across the region. We are truly humbled at the support gathered which not only drives the need for knowledge share but also business opportunities across the continent.

To discuss speaking opportunities or sponsorship options, please contact Faheem Chowdhury: fchowdhury@gep-events.com, +971 58 969 5448.

FIND OUT MORE ABOUT MEIS 2023