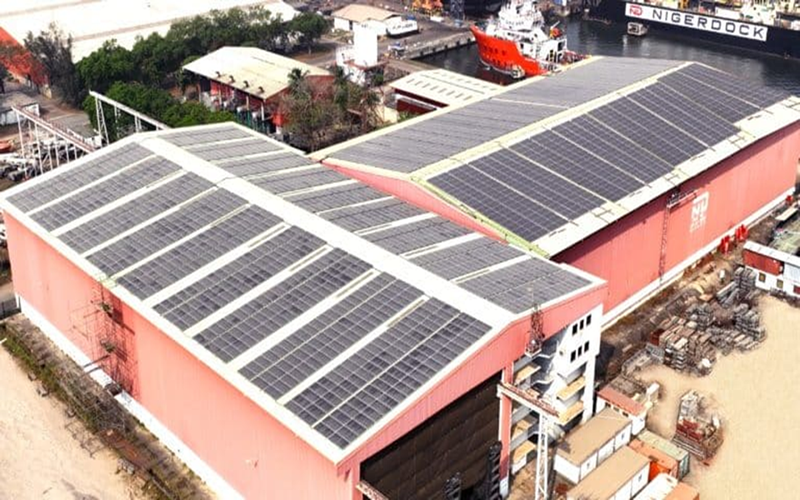 The Snake Island Integrated Free Zone is starting its energy transition implementation programme. The special economic zone developed by the Nigerian shipping company Nigerdock has just been equipped with a rooftop solar photovoltaic plant. The recently commissioned facility is the result of a partnership between Nigerdock and Lagos-based solar energy provider Daystar Power.
According to Nigerdock, the solar power plant is primarily intended to reduce the environmental footprint of the Snake Island Integrated Free Zone. "As a self-sustaining economic hub, improving our energy consumption and reducing our carbon footprint is critical to our operations and long-term success. Our renewable energy solution will provide us and our growing customer base with consistent power and ease of doing business," says CEO Maher Jarmakani.

According to him, the solar system, which has been in operation for a few days, is capable of meeting 40% of its electricity needs, reducing its carbon dioxide (CO2) emissions by 2,000 tonnes per year. The system is part of an initiative by Nigerdock to equip the Snake Island Integrated Free Zone with several solar power plants with an installed capacity of 20 MWp.
Nigerdock is one of the companies that are betting on solar power to reduce their dependence on the Nigerian national grid. A few months ago, solar energy provider Daystar Power signed an agreement with soft drink manufacturer Seven-Up Bottling Company (SBC) to install several solar systems with a combined capacity of 10.5 MWp to power its factories in the cities of Abuja, Lagos (Ikeja), Ibadan and Ilorin