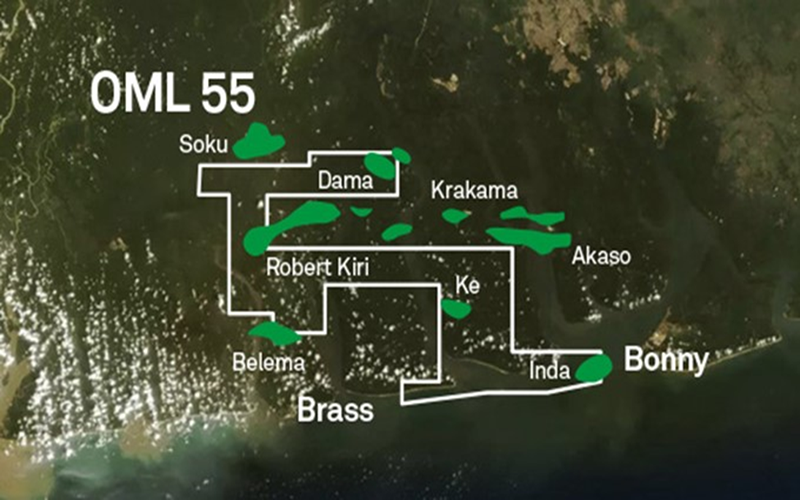 Seplat Petroleum the Nigeria's indigenous leading upstream oil company, has reported that it took an impairment loss of N41.1 billion ($114.4 million) from its interest in OML 55, a contentious Oil block it currently shares with Belemaoil under a management contract signed in 2017. 
The losses contributed significantly to the company's full-year loss of N30.7 billion in 2020, one of its highest on record and only topped in the last 5 years by the N45.3 billion incurred in 2016 nairametrics reported..
The company explained the impairment loss was "primarily as a result of re-assessment of future cash flows from the Group's oil and gas properties due to significant fall in oil prices" during the year. This was contained in notes 12.2 of its 2020 audited accounts which it recently released.
Seplat received total proceeds of $4.8 million under the "revised OML55 commercial arrangement with Belemaoil for the monetization of 67.5 kbbls" part of the agreement it reached with the Rivers State-based Belemaoil. It claimed the recovery was "impacted by OPEC+ production cuts and low oil prices" leading to an impairment of $114.4 million.
 OML 55                                          
OML 55 covers an area of approximately 840km2 and is located in the swamp to shallow water offshore areas in the south eastern Niger Delta. The block contains five producing fields (Robertkiri, Inda, Belema North, Idama and Jokka).
The majority of production on the block is from the Robertkiri, Idama and Inda fields. The Robertkiri field is located in swamp at a water depth of five metres and has a production platform and utility platform installed. Production capacity at the Robertkiri facilities is 20,000 bpd and 10 MMscfd. Production facilities at the Idama field comprise a jack-up mobile offshore production unit ('MOPU') and riser platform that have a capacity of 30,000 bpd of total fluids and 34 MMscfd. The Jokka field is produced through a manifold tied-back to the Idama facilities. Production facilities at the Inda field comprise a MOPU with a capacity of 30,000 bpd of total liquids and 34 MMscfd. Overall, the infrastructure on OML 55 comprises four flow stations, a network of flow-lines, and two eight-inch pipelines that connect to third party operated infrastructure. The Belema field is unitised with OML 25 and is produced via a flow station on that block. All produced liquids from OML 55 are delivered via third party infrastructure to the Bonny terminal for processing and shipping. In addition to the oil potential on the block there is also an opportunity to develop the significant gas resources that have also been identified.
 In 2015, Seplat announced it had entered an agreement with Belema oil  to acquire about 56.25% of the share capital of Belema oil Producing Limited. This was after Belema oil completed the acquisition of a 40 percent interest in OML 55 from Chevron Nigeria Limited. NNPC holds the remaining 60 percent interest in OML 55.
Seplat at the time claimed its "effective working interest in OML 55 as a result of the Acquisition is 22.5 percent" a claim that will be disputed years later by Belemaoil.
Seplat also claimed it paid $132.2 million to acquire the 22.5% "effective working interest in OML 55" and also revealed it "advanced certain loans of $132.9 million to the other shareholders of Belemaoil to meet their share of investments and costs associated with Belemaoil" bringing the total up-front cash outlay after adjustments to about $265.1 million.
Seplat also announced the following when it acquired the asset:
"The adjustments to the up-front acquisition cost include a deferred payment of $20.6 million contingent on oil prices averaging $90 a barrel or above for 12 consecutive months over the next five years. Under the agreed terms Seplat will recover the loaned amounts, together with an uplift premium of $20.6 million and annual interest of 10 percent, from 80 percent of the other shareholders' oil lifting entitlements.
The Company estimates net recoverable hydrocarbon volumes attributable to its 22.5 percent effective working interest to be approximately 20 million barrels of oil and condensate and 156 Bscf of gas (total 46 MMboe). Current gross production at OML 55 is approximately 8,000 bopd (1,800 bopd on a 22.5 percent working interest basis). Pursuant to the Joint Operating Model approved by the Honorable Nigerian Minister of Petroleum Resources, Seplat has been designated operator of OML 55. The Company will also act as technical services provider to Belemaoil."
These claims ended up being disputed by Belemaoil until the NNPC/NAPIMS waded in to readh a truce in 2017.  Before the truce, Belamaoil claimed Seplat did not meet its commitment  by not completing "certain agreed payment" which was required to purchase 40% stake in OML 55 then owned by Chevron.