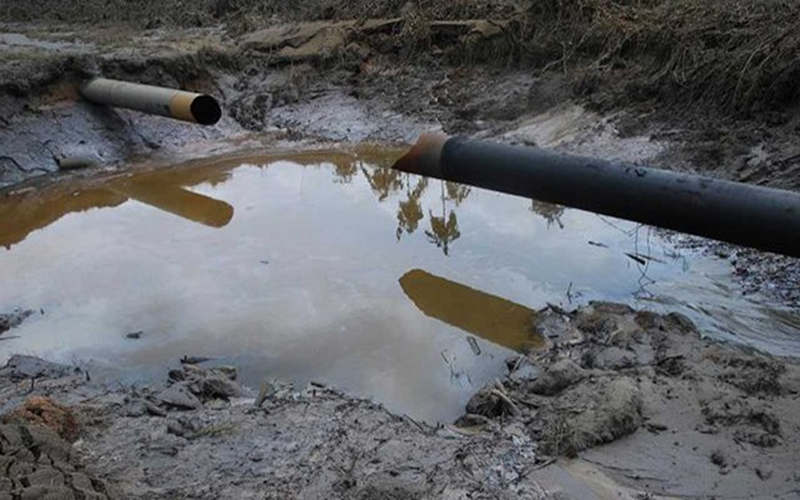 The issue of incessant crude oil pipelines vandalizing in Nigeria took a center stage at the just concluded Nigeria Oil & Gas Conference and Exhibition 2022.This ugly trend has posed huge economic loss to the African largest crude oil producer.
One of the country's major exploration and production companies Shell via its country head Mr Oagie Okunbor was among the speakers that took the center stage at the event on the third day of the event to analyze the enormity of economic loss incurred so far, adding that the crude oil theft has resulted in the shutdown of two of its major crude oil pipelines.
Oil theft has resulted in the declaration of force majeure at Bonny Oil & Gas Terminal, a pipeline transporting crude from the oil-rich Niger Delta to export vessels, among others, creating a hostile environment and disincentive to investors.
Further is his analysis, Mr. Osagie Okunbor who doubles as the Managing Director and Country Chair for Shell Petroleum Development Company of Nigeria Limited and Shell Companies in Nigeria, further stated that oil theft was one of the reasons Nigeria cannot meet its OPEC quota of 1.8 million barrels a day.
"Two of our most important pipelines in this country today are shut down with hundreds of thousands of barrels a day shut-in.
"It is a fact that the issue of theft, whether as a standalone or as the basis for us to meet our OPEC quota is an existential threat for this industry," Mr. Osagie Okunbor, Posited.
But according to the Managing Director of Chevron Nigeria/Mid Africa Business Unit, Richard Kennedy who was also at the panel session emphasized that there is need not to confuse the agitations of host communities of oil-producing areas with the spate of crude oil theft being carried out in the area.
"From my experience, the issue with crude oil theft should not be confused with host community issues. It is much much much bigger than that. It is completely different from host community issues. Quite frankly it is organized crime."
"The volume of crude that is being stolen is well beyond comprehension. You can see some of the figures in the press, maybe it's about 100,000 barrels per day at $100 per barrel and that's $10 million per day that is being stolen. And NNPC owns 60% while taxes of 85% are paid so it's a huge loss for the country," He emphasized.
Analyzing his point of view on issue, the Group CEO of Oanda, Wale Tinubu made an astonished fact on the issue at the event by revealing that about 20% of Nigeria's daily crude production is lost to oil theft.
"There has been a 43% reduction in our production from March 2020 to May 2022. We lose almost 20% of our daily crude production to oil thieves and pipeline vandals and 20,000 barrels a day of oil is lost to oil theft. Basically some three million barrels on average yearly is lost to oil theft and pipeline vandalism," Mr Tinubu said.
Nigeria has been battling crude oil theft for years now amid flourishing of illegal crude oil refineries popularly known as 'Kpofire' littering across the Niger Delta areas. The country has lost close to US$1 billion in revenue during the first quarter of this year due to oil theft, the petroleum regulator said last week. This situation led to formation of Presidential task force committee headed by the Group Managing Director Nigeria National Petroleum Corporation NNPC to see that the nocturnal illegally operating refineries are destroyed and if possible annihilated.
Okunbor further in his analysis, said local companies which won marginal fields licences will face serious challenges to transport their crude once production stage is reached. Shell has recently divested its onshore assets to an indigenous company to enable the company focus on deep water drilling, but conclusion on this has been hindered by series of legal tussles.
Shell in turn has reiterated commitment in the Nigeria legal system. This was recently confirmed is its press release on the company's website stating that the company will abide in decision reached by the Nigeria court as regards to the its onshore assets divestment plan.