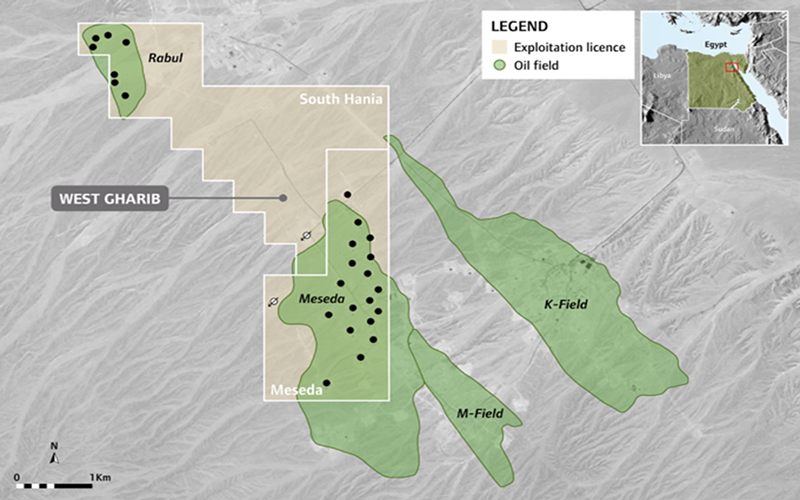 SDX Energy has announced the completion of drilling at the MSD-23 infill development well on the Meseda field in its West Gharib concession, Egypt (SDX: 50% working interest). MSD-23 encountered the primary top Asl Formation reservoir at 3,909 feet MD (3,112 feet TVDSS) and reached a TD of 4,449 feet MD on 10 July.
The well encountered 131.5 feet of good-quality, net oil pay sandstone, with an average porosity of 24.1% in the Asl Formation reservoir. The net pay was split across 3 separate sand units, with the upper-most sand covering 7 feet of net pay with 27.4% porosity. This upper oil-bearing sand is at virgin pressure meaning that it has not been depleted by any surrounding wells and it also represents an unanticipated upside as it was not included in pre-drill estimates.  MSD-23 will now be tied-in to the existing facilities and flow tested.
MSD-23 is the fifth well in a fully funded, 13-well development campaign on the Meseda and Rabul oil fields in the West Gharib concession, Egyptian Eastern Desert. Operations at the third well, MSD-20, are expected to recommence later this month following the replacement of a rig which had experienced operational issues. The development drilling campaign is aimed at growing gross production to c.3,500 – 4,000 bbl/d by early 2023.
The rig will now move to the next well in the campaign.

"The logs from MSD-23 indicate an excellent result with the virgin pressure upper sand of particular interest. The well will now be connected to our infrastructure and flow tested and we will update the market on the results of this in the coming weeks. With MSD-23 coming online we expect to increase gross production to 2,300 – 2,400 bbl/d and we are anticipating further increasing production through the completion of operations at MSD-20 and the drilling of the eight remaining wells in the campaign over the next year. I look forward to updating the market further as the campaign progresses," Mark Reid, CEO of SDX, said.