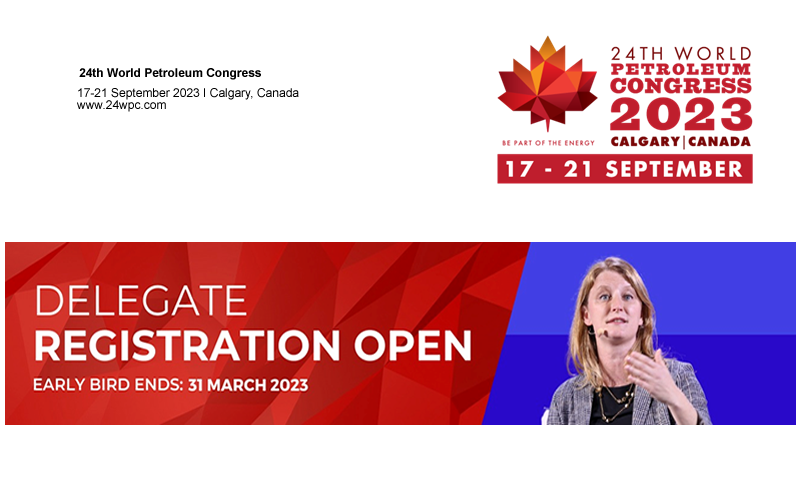 Early Bird Registration Open for the 24th World Petroleum Congress
Dear Industry Colleague, We are delighted to announce that you can take advantage of the early bird rates at the 24th World Petroleum Congress.

Attracting over 15,000 visitors from 100+ countries, the Congress will further the net zero agenda to deliver an accessible, affordable and secure energy transition. Don't miss the opportunity to network with the industry and showcase global solutions across the energy sector.

Join us to discuss Pathways to Net Zero in Calgary, Canada from 17-21 September 2023.
The Technical Blocks and Forums represent an important part of the overall programme.

The highly-anticipated event will cover the full spectrum of the energy industry, including the latest technology in upstream, midstream, and downstream sectors while also discussing the role of natural gas, renewables, and the impact of the industry on society, economy, and the environment.



Apply for your Canadian Visa
1. Get access to the visa letter:
All paid and complimentary registrations are entitled to a visa invitation letter. Please complete your registration and request for the letter by logging in to your registration account.

2. Processing time:
Processing times for visa applications vary depending on the visa office and the time of the year. Participants are encouraged to check processing times to find out how long it takes to process most applications. Learn how to check your application status.

3. Biometrics:
Since 2018, when you apply for a visitor visa, study or work permit (except for U.S. nationals), or permanent residence you need to give your fingerprints and a photo. To facilitate repeat travel to Canada, applicants for a visitor visa, study, or work permit will only need to give their biometrics once every 10 years. For additional information please refer to the fast facts about Biometrics.

For registration support please email:
registration@24wpc.com