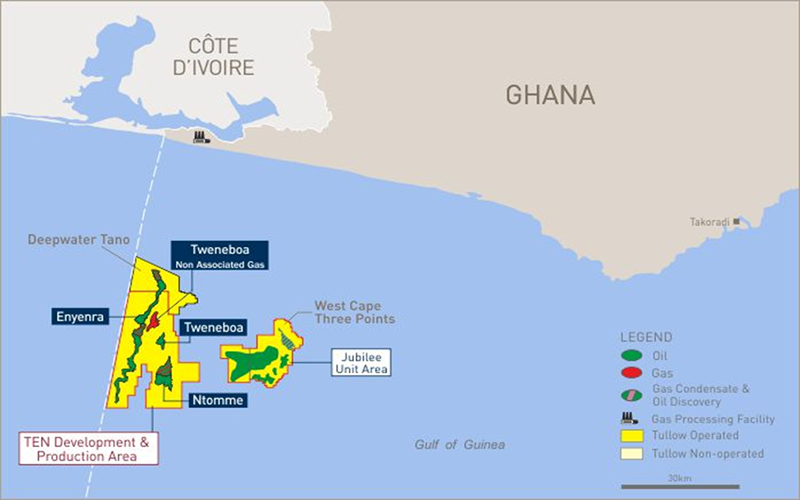 Kosmos Energy has announced in November 2021 that it had received notice from Tullow Oil plc and PetroSA that they intend to exercise their pre-emption rights in relation to the sale of Occidental Petroleum's interests in the Jubilee and TEN fields in Ghana to Kosmos, announced October 13, 2021.
After execution of definitive transaction documentation and receipt of required government approvals, Kosmos and Tullow have now concluded their pre-emption transaction. For PetroSA, the process is ongoing and remains subject to execution of definitive agreements and required government approvals.
Following completion of the pre-emption by both Tullow and PetroSA, Kosmos' ultimate interest in Jubilee will be reduced by 3.8% to 38.3% (Kosmos retains ~80% of the original acquired interest), and Kosmos' ultimate interest in TEN will be reduced by 8.3% to 19.8% (Kosmos retains ~25% of the original acquired interest).
Consideration paid to Kosmos from Tullow after taking into account closing adjustments was approximately $118 million in the first quarter. An additional ~$10 million is expected to be payable on completion of the PetroSA pre-emption process. Kosmos plans to accelerate debt reduction with the proceeds.
The net 2022 production impact of the pre-emption exercise for Kosmos is a reduction of approximately 4,000 barrels of oil per day, based on the March 17 closing date, and is expected to result in one less Ghana cargo lifting this year and a reduction in 2022 capital expenditure of approximately $30 million.