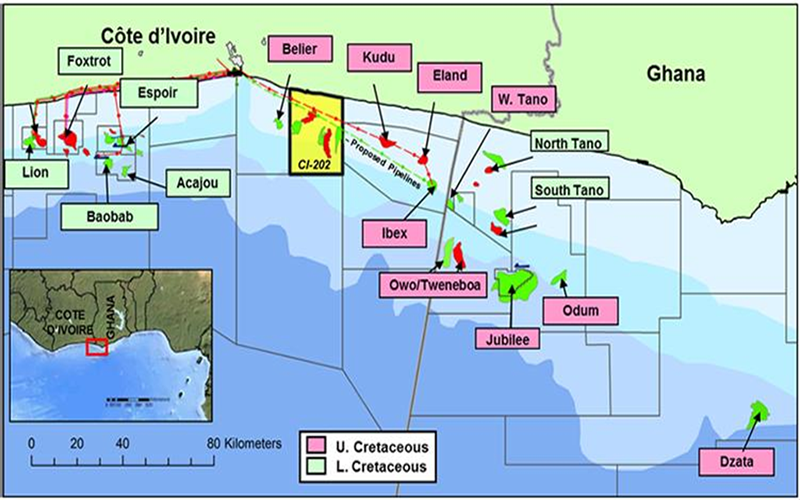 Valaris has recently announced that it has been awarded a one-well contract with Total E&P Côte d'Ivoire B.V. offshore Ivory Coast for drillship, VALARIS DS-12. The contract is expected to commence in the third quarter of 2021.
Valaris DS-12 is a: Drillship Design:DSME 12000 Double-Hull DP  with Ultra-Deepwater: of 7,500′ operating in the region: of Middle East and Africa.
The Total-operated Saphir-1XB exploration well on Block CI-514 proved the presence of liquid hydrocarbons in the deep offshore west of Ivory Coast.
"Drilled in an abrupt margin play, this first well is the first discovery in the San Pedro Basin, a frontier exploration area in Ivory Coast," commented Marc Blaizot, Senior Vice President, Exploration at Total. "Having confirmed the presence of a petroleum system containing light oil, we will next evaluate this very promising find and focus on its extension to the north and east."
Lying in 2,300 meters of water, Saphir-1XB is the first well in Block CI-514. It was drilled to a total depth of 4,655 meters, encountering around 40 meters of net pay containing light 34° API oil, in a series of 350 meters of reservoirs.
The data acquired during drilling are being analyzed and will be used to determine the area's potential and design the delineation program. Total is pursuing its intensive exploration program in the area, with plans to drill two wells in Blocks CI-515 and CI-516 by year-end.
Total E&P Côte d'Ivoire operates Block CI-514 with a 54% interest, alongside CNR International (36%) and PETROCI Holding (10%).
Total Exploration & Production in Ivory Coast
Total also has interests in three other ultra-deep offshore exploration licenses in Ivory Coast (CI-100, CI-515 and CI-516).
The Group is continuing to analyze the oil discovery made in Total-operated Block CI-100 in 2013, which confirmed the extension of an already proved active petroleum system in the prolific Tano Basin.