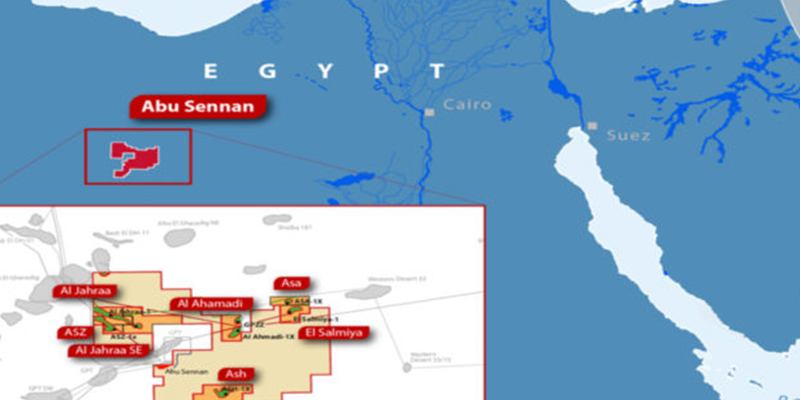 United Oil & Gas Plc (UOG) a global oil and gas exploration, development and production company, is pleased to announce a production on the Abu Sennan concession oilfield off Egypt in which UOG holds a 22% working interest. This includes a production update covering the first half of June and the results of an Independent Reserves Report which estimates gross 2P reserves at Abu Sennan increased to 13.5 MMboe from 12 MMboe over the course of 2019 following drilling success.
Production
According to UOG update released recently, the Production from the Abu Sennan concession has continued to outperform the Company's pre-completion expectations, with production from the first half of June averaging 13,900 boepd gross (3,060 boepd net). This has been underpinned by strong production from the El Salmiya-5 well-testing (c. 4,000 bopd and over 16 MMscf/d gross (c. 7,200 boepd) from the El Salmiya Field since the beginning of June), and continuing consistent production from the ASH-2 well, which was successfully drilled and brought online in January 2020. Although it is still early days on the El Salmiya-5 well, and United expect the well to be choked back in order to optimise ultimate recovery, the results to date have clearly demonstrated the capacity of the well to deliver high production rates. Production at Abu Sennan continues to benefit from low operating costs of c. $6.50/bbl. El Salmiyah-5 was spudded on 3 February 2020, and reached total depth of 4400 m MD on 17 April 2020
Reserves
The results of an Independent Reserves Report, also indicates that gross 2P reserves have increased to 13.5 MMboe (15% gas) compared to 12 MMboe at the end of 2018. This is an annual increase of 12.5%, and given that nearly 1.7 MMboe was produced from the Abu Sennan assets during 2018, indicates a reserves replacement ratio for 2019 of 190%. Gross 1P and 3P reserves have also increased, with 1P reserves up by 76% to 4.2 MMboe and 3P reserves up by 46% to 28.6 MMboe (from 2.4 MMboe and 19.6 MMboe respectively at the beginning of 2019).
Jonathan Leather, COO, United Oil & Gas Plc Statement:
"It is really pleasing to see the Abu Sennan assets continuing to perform so strongly and the potential that we recognised in the assets being realised. Much as we expect the production at the El Salmiya-5 well to be choked back from the current levels, it is fair to say that net production of over 3,000 boepd at this stage has surpassed even our own high expectations for the Licence.
"We remain highly confident that the Licence has more to offer. Further development at the ASH field is expected to deliver additional gas before the end of the year, further enhancing production and cashflow. We also see substantial exploration opportunity on the licence and are working towards optimising targets for further exploration drilling in due course.
"This independent review of reserves should send a clear message about the strength of the Company's Egyptian assets and, together with our booked reserves at the Selva field in Italy, serves to highlight the considerable asset value behind United – a notable discrepancy when compared to our current market capitalisation. We look forward to working with our partners to maximise the value of those reserves for our shareholders."