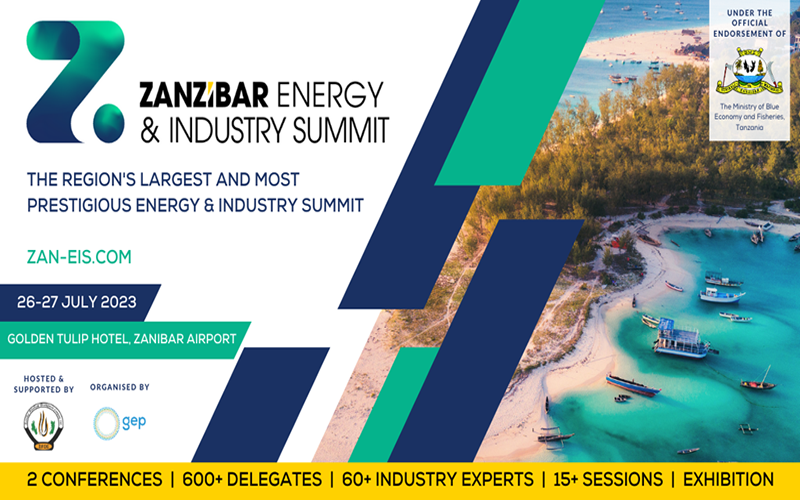 WELCOME TO THE ZANZIBAR ENERGY & INDUSTRY SUMMIT 2023
SAVE THE DATE: JOIN US 26-27 JULY 2023 We are delighted to announce that the inaugural Zanzibar Energy & Industry Summit (ZEIS 2023) will take place 26-27 July 2023 at the Golden Tulip Hotel, Zanzibar Airport.

Zanzibar is a region rich in natural resources with plentiful opportunities to invest, ZEIS 2023 will create an environment to highlight these opportunities and emphasise how Zanzibar is positioned at the precipice of huge growth.

ZEIS 2023 was officially launched over the weekend in Zanzibar with an exclusive ceremony, hosted by The Zanzibar Petroleum and Development Corporation (ZPDC). The Minister of Blue Economy and Fisheries, Mr Suleiman Masoud Makame opened the ceremony and said that:

"ZEIS 2023 will bring productivity and positive result in strengthening and promoting Zanzibar in energy and industry sectors… As well as boosting the oil and gas sector, ZEIS will help promoting tourism, especially given that the visitors who will participate will create employment opportunities for our youth in the tourism sector which is part of blue economy".

Dr Aboud Suleiman Jumbe, Principal Secretary of The Ministry of Blue Economies and Fisheries was also in attendance and explained how ZEIS 2023 opens Zanzibar to the world of development of oil and natural gas at a time when Zanzibaris are eagerly waiting for oil boom:

"The search and assessment result so far gives hope of possible oil and gas development in future".

ZPDC Managing Director, Mikidadi Ali Rashid concluded that:

"ZEIS comes at a time when our office are planning to release more blocks in Zanzibar territorial waters, for oil and gas explorations".

Hosted by ZPDC, we invite you to join us at ZEIS 2023 this July and participate in the largest energy and industry event in recent times.
THE PROGRAMME
Across two days, ZEIS 2023 will bring together over 500 delegates to discuss Zanzibar's nascent economy. With Blue Economy becoming a major source of discussion and investment opportunities, Zanzibar recognises the immense potential to drive Zanzibar's future and its present fortunes. ZEIS 2023 focus on Energy, Blue Economy & other key industries, bringing together key personnel within the government and the respective supply-chain to promote and emphasise the key objectives of the country.
DISCOVER PARTNERSHIP OPPORTUNITIES AT ZEIS 2023
Are you looking to position your company at the forefront of the industry in Zanzibar? To find out more about potential speaking and sponsorship opportunities at ZEIS 2023, please contact:
Faheem Chowdhury
Director
e: fchowdhury@gep-events.com
t: +971 58 969 5448