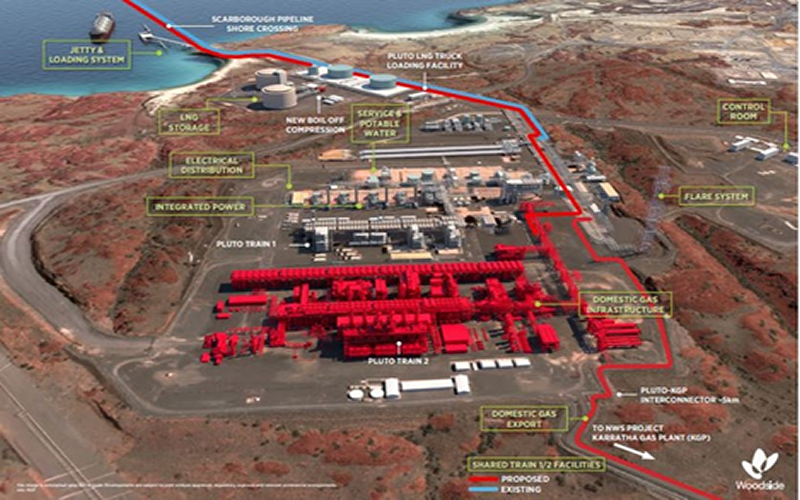 Wood Energy said it has delivered crude oil production of 22.3 MMboe, down 1% from Q4 2021. According to the company's first quarter report for period ended 31 march 2022 it has delivered sales volume of 25.5 MMboe, including a 2% increase in produced LNG sales volume from Q4 2021.
The average realised price increased to $93 per barrel of oil equivalent which is up to 3% from Q4 2021. While the delivered sales revenue of $2,355 million is down to 17% from Q4 2021 on lower trading activity.
In the area of operations under review, the company stated that it has commenced processing of Pluto gas at the Karratha Gas Plant (KGP) following the start-up of the Pluto-KGP Interconnector pipeline and has achieved steady state operations for Julimar-Brunello Phase 2, and in April Greater Western Flank Phase 3 achieved ready for start-up.
The company further said that it has Signed binding agreements for long-term charter hire of three new-build LNG carriers to be delivered ahead of Scarborough's first cargo targeted in 2026.
Also disclosed in the report are the released shareholder materials in April, ahead of the shareholder vote on 19 May to approve the proposed merger with BHP's petroleum business and the filed regulatory documentation in April for listings with the London Stock Exchange and the New York Stock Exchange.
Woodside CEO Meg O'Neill said the first quarter continued strong revenue performance with an increase in produced LNG sales volumes and $2.36 billion of sales revenue.
"The implications of Russia's invasion of Ukraine have reverberated globally, exacerbating already tight energy markets, particularly for LNG. This has resulted in unprecedented volatility and price spikes to levels not seen since the early part of last decade.
"Revenue was buoyed by a strong average realised portfolio price of $93 per barrel of oil equivalent, despite overall lower sales volume due to reduced trading activity in the currently volatile global energy market. "We expect in the second quarter to see the continued benefit of stronger pricing, reflecting the oil price lag in many of our LNG contracts.
"In April, significant milestones were achieved in the lead up to the shareholder vote on Woodside's proposed merger with BHP Petroleum. "We believe the case for the proposed merger with BHP Petroleum is compelling. It will bring together the better of two successful organisations and deliver the increased scale, diversity and resilience to provide value to shareholders and ensure Woodside better navigates the energy transition.
"The Woodside Board unanimously recommends shareholders vote in favour of the merger. "The Explanatory Memorandum and Independent Expert Report, which concluded that the proposed merger is in the best interests of Woodside shareholders, were issued earlier this month ahead of the vote, scheduled for our Annual General Meeting on 19 May.
Also in April, Woodside filed the required regulatory documents for our secondary listings in New York and London, which are expected to become active on completion of the proposed merger, targeted for 1 June 2022. Page 2 of 2
"Work on our Scarborough and Pluto Train 2 projects began to ramp up during the first quarter with Bechtel, the engineering, procurement, construction and commissioning contractor for Pluto Train 2, beginning major civil works for the construction accommodation village in Karratha.
"Manufacture of the Scarborough pipeline commenced, and we also exercised a contractual option to fabricate the Scarborough subsea structures in Western Australia.
"Looking ahead, Woodside has signed binding agreements for the long-term charter of three new-build LNG carriers to be delivered prior to the start-up of Scarborough. The new vessels will improve the costcompetitiveness and fuel efficiency of the Woodside fleet.
"In Senegal, the Sangomar Field Development Phase 1 is now more than 50% complete and remains on track for targeted first oil in 2023. Subsea equipment fabrication is progressing, and the second drillship, the Ocean BlackHawk, is scheduled to commence activities in mid-2022.
"An important transition point in the history of the North West Shelf Project was realised in March with the start-up of the Pluto-Karratha Gas Plant (KGP) Interconnector pipeline, for the first time enabling processing of third-party gas at Australia's largest LNG production facility.
"The start-up of the Pluto-KGP Interconnector supports the accelerated production of gas from the first phase of Pluto's Pyxis Hub, which is now operating and achieving targeted gas flow rates and in recent days the first LNG cargo produced through the Interconnector was loaded.
"Julimar-Brunello Phase 2 is now in steady state operations and in April, the North West Shelf's Greater Western Flank Phase 3 project achieved ready for start-up ahead of schedule.
"During the quarter we released our Climate Report 2021 which outlines our response to climate change and our strategy to thrive through the energy transition as a low-cost, lower-carbon energy provider.
"Work has also continued on Woodside's new energy opportunities. Our collaboration with Heliogen has also deepened with our agreement to deploy a 5 megawatt electric module of the US company's AI-enabled concentrated solar energy technology in California, as well as jointly market Heliogen's renewable energy technology in Australia.
"We have launched a carbon capture and utilisation (CCU) collaboration with US-based technology developers ReCarbon and LanzaTech to investigate the viability of a proposed CCU pilot facility in Perth," she said.
Pluto LNG
Woodside has operated the world-class Pluto LNG facility safely and reliably since start-up in 2012. Gas from the offshore Pluto and Xena fields is piped through a 180 km pipeline to Pluto LNG's single onshore LNG processing train located on the Burrup Peninsula, near Karratha, WA.
Pluto Train 2
Woodside is proposing a brownfield expansion of Pluto LNG through the construction of a second gas processing train. Pluto Train 2 would have a capacity of about 5 million tonnes per annum (Mtpa) (100% project). The composition of gas from the offshore Scarborough field is well suited to Pluto LNG, which is designed for lean gas and nitrogen removal.
Pluto Train 1
In January 2022, Woodside awarded frontend engineering design (FEED) contracts to both Kellogg Brown and Root and Bechtel for the modifications to Pluto Train 1 which will enable processing of up to 3 Mtpa of Scarborough gas. These modifications, combined with the 5 Mtpa capacity of Pluto Train 2, would enable full utilisation of the 8 Mtpa offshore capacities.