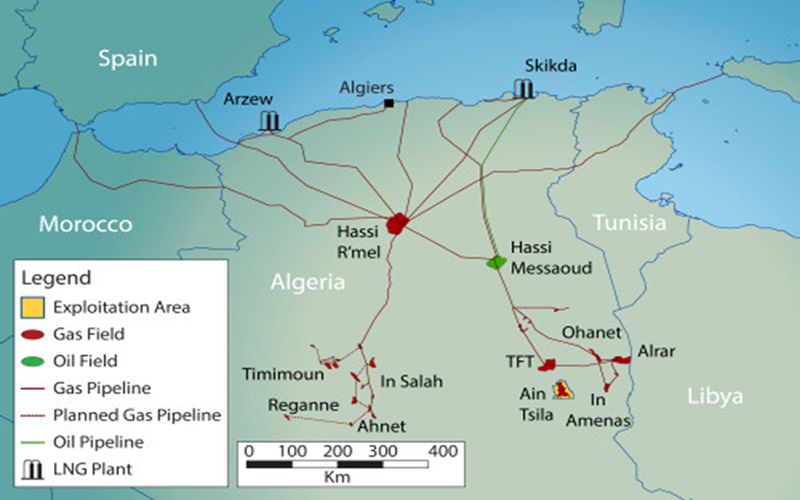 This is another case that will cause huge financial damage to Algeria as it goes through one of its worst financial crises. This is the Petroceltic affair where the Algerian propagandist media concealed the truth from Algerians about a real mess that has just been caused by the CEO of Sonatrach, Toufik Hakkar. Explanations.
On April 15, the general management of Sonatrach announced in a press release the termination of the contract concluded with the company Petroceltic for the exploration and exploitation of hydrocarbons on the Isarène perimeter, "in compliance with the clauses that recognize this right ". "Sonatrach proceeded on April 12, 2021 to the termination of the contract for the exploration and exploitation of hydrocarbons on the Isarène perimeter (blocks 228 and 229a), concluded on September 26, 2004 with the company Petroceltic International PLC, under the 'aegis of the law n 86-14 of August 19, 1986, amended and supplemented, relating to the activities of prospecting, research, exploitation and transport by pipeline of hydrocarbons ",
Sonatrach had insisted a lot on the terms of this termination which were accomplished "in accordance with the contract and in particular the clauses which recognize this right", added the press release, while stressing that "Sonatrach exercised this right after having vainly requested to Petroceltic to comply with its contractual obligations ".
Sonatrach explained that under the termination notification, Petroceltic is granted a period of time to transfer oil operations to Sonatrach, the national company said.
Contrary to what has been described and told by the Algerian press and the general management of Sonatrach, this arbitrary termination is hardly a "victory", but a gross mistake on the part of the CEO of Sonatrach, Toufik Hakkar. And this error allowed the Irish company Petroceltic to very quickly resort to international arbitration to claim 1 billion dollars in compensation from Sonatrach. Petroceltic risks winning because Sonatrach had no right to deprive this Irish company of its right to exploit a gas field in Algeria. The only body empowered to issue or withdraw from foreign companies operating permits for hydrocarbon deposits or fields in Algeria is the national agency for the development of Algerian hydrocarbon resources (ALNAFT).
Sonatrach is only a commercial partner which also has licenses and permits to exploit and explore gas and oil fields. Sonatrach does not in any way own the wealth of the national subsoil. It is up to ALNAFT to monitor research and / or exploitation activities and conclude contracts, ensure the follow-up and control, in its capacity as a contracting party, of the execution of research contracts and / or 'operation in accordance with the provisions of the Law on Hydrocarbons.
Sonatrach can therefore in no case exclude Petroceltic from the exploration and exploitation of hydrocarbons on the Isarène perimeter. It does not have its prerogatives in its missions. In 2004, Sonatrach signed a formal contract with this subsidiary of the British company Sunny Hill Energy. Any unilateral breach of a commercial contract requires financial compensation for the party that has been the subject of this procedure.
However, "Sonatrach, the Algerian public energy company, has ended its contractual relationship without offering any compensation", denounced in this regard Sunny Hill who added to have invested hundreds of millions of dollars in the project. "We will firmly pursue our demands," said Angelo Moskov, chairman of Sunny Hill, saying that his company has "fully fulfilled its contractual obligations". "Sonatrach acted aggressively and irrational", Angelo Moskov further underlined. It is, according to him, an "attempted expropriation". For him, "this unjustified action will greatly harm the attempts of the Algerian authorities to attract foreign investment".
Unfortunately, it must be recognized that the actions of the CEO of Sonatrach give reason to the arguments of the head of the parent company of the company Petroceltic International PLC who could therefore win his case in international arbitration and thus force Sonatrach to pay him expensive compensation.
Another outcome was totally possible and conceivable in this affair. Petroceltic has suffered serious financial difficulties since 2016. It was no longer able to develop ambitious investments in Algeria. It would have been preferable for Sonatrach to initiate direct negotiations with this foreign partner to offer to buy back its shares at prices negotiated intelligently in serenity without making noise or leading to a showdown because Petroceltic had signed a contract. in due form and had all the authorizations issued by the Algerian State to operate in the hydrocarbons sector.
Sonatrach and Petroceltic have, moreover, incurred many significant costs which now risk causing imbalances in Sonatrach. Petroceltic International plc listed in London holds a 38.25% interest in the Isarene production sharing agreement, against 43.375% for the national company Sonatrach and 18.375% for Enel. It is involved in the development plan approved for the Ain Tsila gas field, located in the wilaya of Illizi 1,100 km southeast of Algiers, where it was expected to produce gross reserves of 2.1 trillion. cubic feet of gas, 67 million barrels of condensate and 108 million barrels of liquefied petroleum gas extracted on an average annual volume basis, from wet gas, at a plateau rate of 335 million standard cubic feet per day.
The contract for the research and exploitation of the Isarene perimeter signed by Sonatrach with Petroceltic International Plc on September 26, 2004 was approved five months later by a presidential decree (n ° 05-24 of January 13, 2005). It provides for an operating period of 30 years from the date of approval of the development plan. Petroceltic immediately began research and exploration and discovered significant potential, estimated at 269.29 billion cubic meters of gas, or the equivalent of 9.51 TCF.
In the development plan that it presented to Alnaft dated August 8, 2012, it was a question of starting production from October 2017. In doing so, the approval of the development plan being conditioned by the start of production. drilling campaign from 2013, the scenario of exploitation by natural depletion of the deposit over a period of 30 years – the contract expires on December 11, 2042 -, provides for production of 63.55 billion cubic meters of raw gas, 67.10 million barrels of Condensate and 108 million barrels of LPG. This development plan also provides for a production plateau spread over 14 years consisting of 10.05 million cubic meters of raw gas / day, 11,428 barrels / day of condensate and 17,117 barrels / day of LPG (1,235 tons / day) .
En mars 2019, le groupement Isarène avait octroyé un marché avoisinant le 1 milliard de dollars à la compagnie britannique Petrofac pour le projet de développement d'Ain Tsila. Ce marché permettait à Petrofac de prendre en charge la réalisation d'un CPF de traitement de gaz humide d'une capacité de 12 millions m3 Jour, la réalisation d'une centrale électrique de 125 MW, la réalisation des utilités, la réalisation d'un réseau de collecte de 110 Km pour le raccordement de 30 puits prévus pour le First Gas, la réalisation d'un système d'expédition d'une longueur de 356 Km.
PETROFAC was to commission these strategic gas installations within 42 months. Today, because of Sonatrach's brutal decision, work on this equipment has been temporarily frozen pending the outcome of the conflict between Sonatrach and Petroceltic, its partner in this strategic gas project. However, PETROFAC has already received a budget of $ 500 million to introduce in Algeria the equipment necessary for the construction of the Ain Tsila facilities. Sonatrach is now
In other words, Sonatrach risks taking on a financial mess all by itself, the cost of which will be steep. And it will not be able to shirk its responsibilities because Petrofac also has a formal contract and it is in no way responsible for the delays of the project which will lead to heavy penalties because the two shareholders of the Ain Tsila project ended up … getting divorced.
Petroceltic had previously sold part of its shares in the association, 18.375% which it sold on April 28, 2011 to the Italian electrician Enel for $ 183 million. But Sonatrach had exercised its pre-emption right to buy from it, on February 12, 2014, 18.375% of the shares it wanted to sell to the Indian company Oil India. It was therefore possible for Sonatrach to simply buy back all of Petroceltic's shares in order to quietly bury this partnership instead of going to "war" using illegal methods worthy of "thugs". With such practices, even abuses, the CEO of Sonatrach, Toufik Hakkar, proves his incompetence and his inability to manage delicate and complex issues in the hydrocarbons sector. Unless the sieur Toufik Hakkar knowingly committed this big mistake to allow Petroceltic to recover a good jackpot through… international arbitration. It is a hypothesis which would reveal a very dangerous Machiavellian plan against the vital interests of the country. We will come back to that.